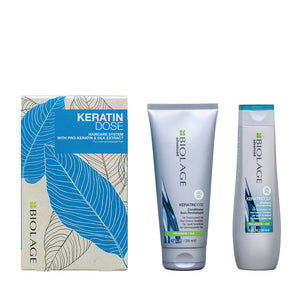 Gift Pack contains: Keratindose Shampoo and Keratindose Conditioner 
For Treating Dull, Lifeless Hair
Do you think your hair is losing its softness and shine? Try Biolage Keratindose Shampoo and Conditioner—designed specially to treat dull, damaged and over processed hair. It would make your hair feel soft and pampered. The rich, herbal, spicy, sweet and a distinct smell is strong to the point that you might confuse it with a perfume. Regular application of the hair care product will help in restoring moisture thus leaving it 90% more nourished. The duo pack is a great match for you if you are in need of a little keratin for your coloured, processed hair.
Nourishing, Balancing Hair Care Treatment
This hair care treatment is formulated with pro-keratin and silk that helps to reinforce and moisture balance. The Matrix shampoo and conditioner has a creamy, gel like consistency that can help repair colour treated, weak or fragile hair. Matrix Keratindose provides nourishment and cleansing while balancing moisture for over-processed hair. Hair seems 90% more conditioned after one application.  
Clean, Conditioned Hair Care Therapy 
This repair therapy for hair wicks away oil and impurities whilst keeping the hair conditioned. This paraben free, sulphate-free hair care formula repairs the chemically treated hair from roots to the tips making them more elastic, healthy and frizz free. You would realise the full potential of how moisturised, healthy, and shiny your hair could really be after the application of Biolage Keratindose Duo.