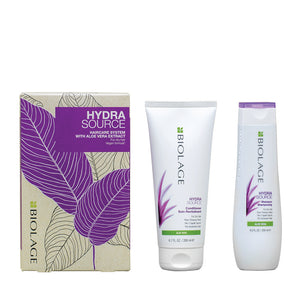 Matrix Biolage Hydrasource Shampoo and Conditioner - Hair Products for Dry Hair - Hair Repair Therapy, Optimum Hydration
With excessive hair styling, over processing, thermal exposure and colouring, hair tends to lose its moisture and healthy texture. Matrix has brought a revolution in the hair care industry by introducing this new Hydrasource range of hair products. The Biolage shampoo and conditioner is known to tame even the driest and coarsest hair. This pack of Hydrasource shampoo and conditioner works gently to lock the moisture in your hair.
Improve Hair Manageability with Hydrasource Shampoo
The major reason for hair breakage is the dryness which makes it difficult to manage them and the lustre gets lost. This hair shampoo by Matrix is enriched with aloe plant extracts which cures the dryness of the scalp and hair. This product works as a detangling shampoo that smoothens your hair by nourishing it with hydrating nutrients. This shampoo instantly renews the look of hair, making it look healthier than before. It also controls the frizz and fly aways, making hair styling easier for you. The hydration therapy shampoo is perfectly formulated to work wonders on the colour treated hair as well.
Smooth and Shiny Hair with Hydrasource Conditioner
It becomes difficult to tame the dry hair after shampooing. It is generally because the hair lack softness in the texture and need some moisture to come back to life. The Biolage Hydrasource conditioner is a moisturising cream that gives you sleeker and smoother hair instantly. This hair renewal product works as a replenishing hair conditioning balm that seals the cuticles to improve smoothness. The paraben-free formula makes it non-toxic and best suitable for use on over-processed and dead hair. A regular use of this hair conditioner after shampooing would cure all the dry hair woes that are troubling you.