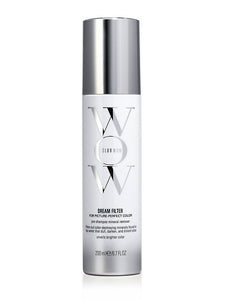 Simply spray on, then rinse out to instantly remove metals + minerals that dull, darken + distort your hair colour.
Works like a magnet in under 3 minutes to extract:
Colour-distorting elements found in tap and well water
Metals that interfere with color processing
Minerals that leave a dulling film on hair and make your hair feel stiff, coarse and rough
No heat, no cap, no messy product to deal with.
Dream Filter's breakthrough technology is an industry first. The unique spray-on formula combines 2 molecular filters with 2 polymeric filters (never used in any other hair product) to gently, safely and quickly remove minerals and metals from the hair found in tap and well water...without the need for heat, use of a cap or any messy mixing. It works in only 1-3 minutes!
Who's it for?
Anyone who wants to keep their hair colour and/or highlights (natural, or chemically-derived!) fresh, light and bright by removing environmental elements that wreck color including traces of calcium, magnesium, copper, iron, manganese, aluminum, and chlorine.

Ideal for
All hair types and colours. Safe, non-harsh, non-stripping spray is especially effective on pale shades of blonde, grey, ash, white and all lighter hair shades that are prone to show stains and discoloration from metals and minerals.

When to use DREAM FILTER
Suggested use is every 3-4 shampoos to keep your color looking fresh and bright. But, with frequent exposure to well water or chlorine, you can use it more often (even daily) because, unlike chelating products, DREAM FILTER is extremely gentle.

For best results, use DREAM FILTER every time you colour your hair.
Your salon colorist will get better results when he/she uses Dream Filter prior to applying colour chemicals. This is because metals that accumulate on your hair (like copper) can accelerate the colour process, which can lead to unpredictable results or even damage your hair.
Directions

Apply Dream Filter to dry hair before shampooing. Spray evenly to saturate hair thoroughly. Wait 1-3 minutes, then shampoo. For best results, use Color Wow Color Security Shampoo followed by Color Wow Color Security Conditioner.

FAQs
What elements does Dream Filter remove from hair?

Calcium, Magnesium, Aluminum: Leave behind heavy build up, which dulls color, weighs hair down and makes it feel dry.
Iron, Manganese: Discolor hair by causing it to oxidize, resulting in brassiness.
Copper: Interferes with color processing by acting as a catalyst with developers, accelerating their strength and causing damage inside and out.
Chlorine: Produces a green tint on light hair and causes dark hair to turn even darker.
Does Dream Filter affect color processing?
Yes, in a good way! Dream Filter removes metals (like copper and manganese) that act as catalysts to accelerate developers, which can lead to unpredictable results and damage to hair, inside and out. Dream Filter should be used prior to a lightening service to ensure best results.

How does Dream Filter compare to typical chelating formulas?
Typical chelating formulas are either harsh on the hair, compromising the cuticle and stripping color, or are weak and require extended processing time and heat. Dream Filter's breakthrough technology contains a unique combination of polymeric and molecular filters that have been engineered to effectively remove metals faster and more efficiently while being gentle on the hair.

Is Dream Filter color safe?
Yes, it is pH balanced and does not contain any harsh ingredients.

Is Dream Filter keratin safe?
Yes, it does not contain any ingredients that will adversely affect a keratin treatment.

Will Dream Filter work on wet hair?
Yes, but when hair is wet Dream Filter gets diluted and cannot work as effectively. For best results, apply Dream Filter to dry hair.

Can this be used under heat? With a cap?
Dream Filter's breakthrough technology is effective without the use of heat or a cap.